Day Trip - COVENTRY
Saturday, 26th June 2021
| ADULT | OAP | CHILD |
| --- | --- | --- |
| £15 | £14.50 | £14 |
Visit Coventry with its splendid combination of modern architecture and industreous buildings in its now metropolitan heart.
Aside from the striking spectacle of the new Cathedral which you can view, anyone would find the bombed ruines of the old Cathedral magnificent - whilst also eerily harrowing.
Walk the ruins and learn of Coventry's great casualty during WW2.
Find an array of attractions in close-proxemity including the Transport Museum, Herbert Art Gallery or more metropolitan activities such as Escape Rooms or the renowned Sgt Bilko's Vintage Emporium.
---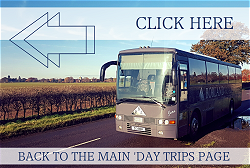 We're hopeful that the trips will run without interruption from COVID-19 restrictions. Just in case; we're pleased to offer a money back guarantee, if your trip is cancelled. In addition, availability of venues at any of our destinations might change - even more so in respect of the pandemic. If you'd like to find out more Terms and Conditions, you can contact us directly, we're happy to help!