Day Trip - WARWICK TOWN
Saturday, 11th September 2021
| ADULT | OAP | CHILD |
| --- | --- | --- |
| £15.50 | £15 | £14.50 |
Warwick is a destination guaranteed to please with its scenic monuments, architecture and great history.
With it's hearty high street and many historic landmarks, you'll not be short of anything to do here.
Visit the Knight's Village, one of the many Gardens and Parks or, of course; Warwick Castle - all a stone's throw away from our Rendezvous Point.
---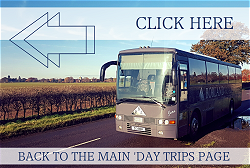 We're hopeful that the trips will run without interruption from COVID-19 restrictions. Just in case; we're pleased to offer a money back guarantee, if your trip is cancelled. In addition, availability of venues at any of our destinations might change - even more so in respect of the pandemic. If you'd like to find out more Terms and Conditions, you can contact us directly, we're happy to help!
Image Credit: "Warwick Castle" by dolbinator1000 is licensed under CC BY 2.0